Finned Tubes, Extruded & Helical High Finned Tubes - USEL Tubes

Helical high finned tubes have been used in the manufacture and repair of air cooled heat exchangers for over 60 years. A good quality supply source is imperative for emergency repair and equipment maintenance.
For your rapid quotation please specify:
Number of pieces. Tube: Diameter, thickness, length and material specification. Fin: Type, material, spacing, thickness, height and unfinned end lengths. Delivery period required.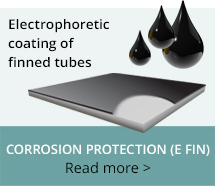 Applied Fins
Are manufactured by wrapping a fin around the base tube to give the required characteristics for the process application. See finned tube types below:
Extruded Fins
The fin gives complete protection to the base tube and is much stronger than the applied type due to work hardening of the fin material during the extrusion process.
Upper temperature limit: 350°C
Tube Material: Any standard material we stock or is requested
Fin Material : Aluminium
L Fin (or wrapped fin)
The extruded fin tube is wrapped around the tube and secured at each end. Gives some surface protection to the tube. Used for moderate temperature cooling applications.
Upper temperature limit: 120°C
Tube Material: Any standard material we stock or is requested
Fin Material : Aluminium or Copper

LL Fin (or Overlapped Fin)
The L finned tube is wrapped around the tube with an overlapping foot and secured at each end. Gives good surface protection to the tube. Used for moderate temperature cooling applications.
Upper Temperature limit: 180°C
Tube Material: Any standard material we stock or is requested
Fin Material : Aluminium or Copper

G Fin Tube (or Embedded Fin)
Fin is embedded into the outer wall of the tube, but gives no surface protection. The finned tube is used in general use for continuous process applications; ie refineries, petrochemical, fertilizer and gas plants.
Upper temperature limit: 450°C
Fin Material : Aluminium , Copper or steel
Tube Material : Please contact us for guidance for harder materials 

KL Fin (or Knurled L fin)
The fin is wrapped around the tube and the foot is rolled into the outer surface of the pre knurled tube and secured at each end. Gives good surface protection to the tube and improved heat transfer compared to the L or LL type fin. This finned tube is used for moderate temperature cooling applications.
Upper Temperature limit: 250°C
Tube Material: Any standard material we stock or is requested
Fin Material : Aluminium or Copper